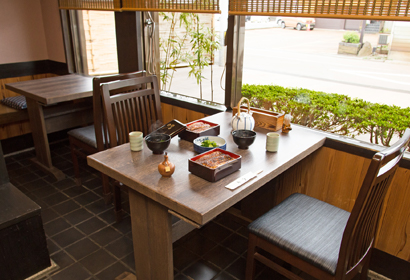 We are sure you two can take your time.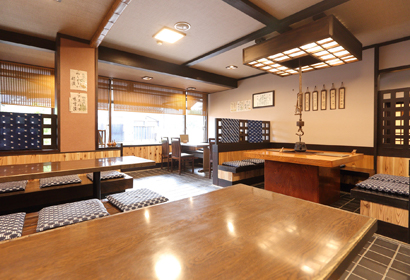 1st floor: Table 30 seats
We also have many booklets on eels.
Please take a peek while you wait.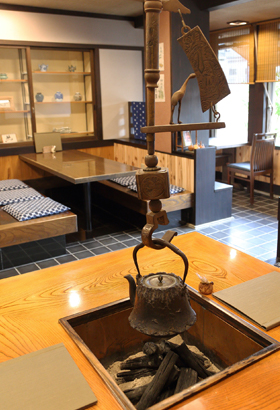 Family gathering at the sunken hearth…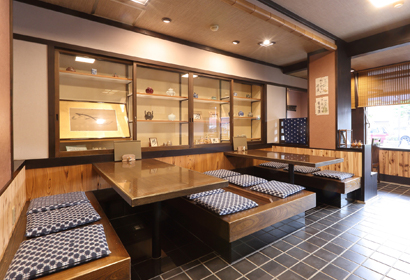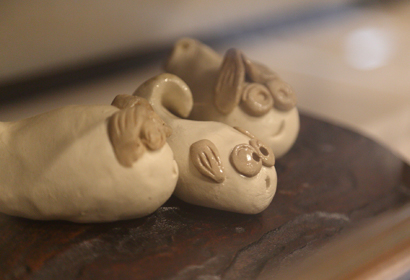 2nd floor: 4 private rooms (large, medium and small).
All kinds of dinners, banquets, New Year's Eve parties,
welcome and farewell parties, and The restaurant can be used for a variety of occasions,
including celebrations and funerals.
Private rooms are available for guests who want a private room and guests with children.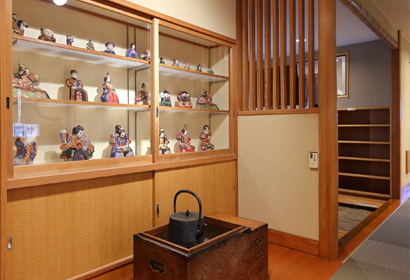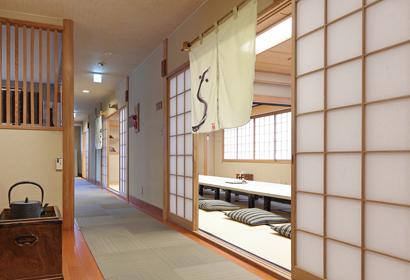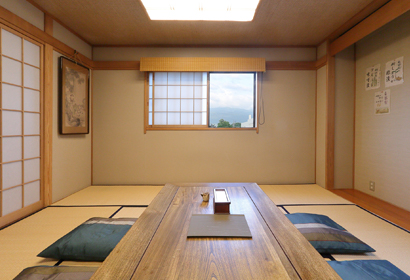 Small private (tatami) room for 3-6 people 
For those with children and small groups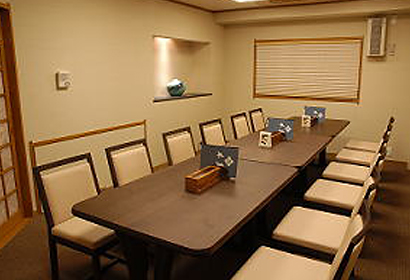 Private room: table seating, 4-10 persons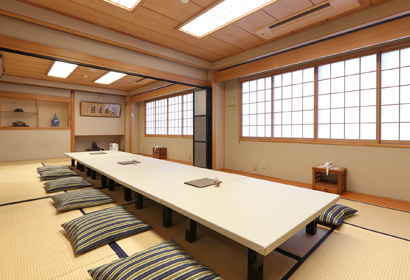 Japanese-style tatami rooms for 10-16 people x 2
(can accommodate up to 32 people in total)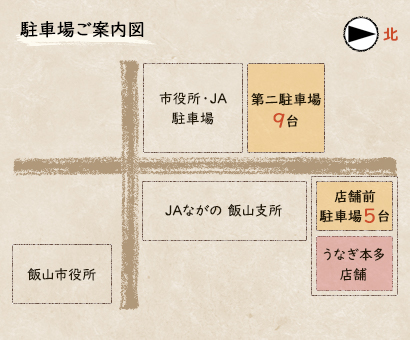 当店について
Shop Name
Eel Specialty restaurant "Honda"
Founding
37th year of Meiji (1904)
Address
1117 Fukuju-machi, Iiyama-shi, Nagano-ken, 389-2253
Access
15 minutes walk from Iiyama Station on the JR Iiyama Line and Hokuriku Shinkansen.
3 minutes walk from Honmachi bus stop
phone number
0269-62-2213
business hours
11:00 a.m. – 7:00 p.m. (L.O. 6:20 p.m.)
Regular holidays
Every Thursday (There are irregular holidays)
Seating Information
1st floor: table 30 seats 
2nd floor: Small private (tatami) room 8 seats / Medium private room 10 seats at a table / 16 seats in tatami room x 2 (32 seats in total)
Lavatory
We have separate rooms for men and women on the 1st and 2nd floors.
Credit card
VISA Master PayPay
Equipped
Free WiFi, power for charging, wheelchair accessible. 
Website
https://unagi-honda.jp
Access from Iiyama Station
[Walk] about 15 minutes [Bus] Iiyama Station(Get on) ⇒ Honmachi (Get off) (about 5+3 minutes) [Taxi] 600 yen (about 4 minutes)
Dawning (of a new era)
The Honda family served the Iiyama clan in Shinano Province, a samurai family that follows the school of Honda Masanobu, who was claimed to be one of Tokugawa Ieyasu's great leaders.In the early Meiji era, the job will be lost due to the abandoned domain.
Sojiro Honda, the first owner of the restaurant, started the restaurant under the name of "Yohkiken". The family crest of the Iiyama clan is "Aoi" and the name reflects the hope that the people of Iiyama would be able to nourish their prosperity at a time when everyone was suffering.
Contrary to his wishes, it started out as an "all-everything store", cooking and serving food with whatever ingredients we managed to find that day.Eel is one of them, and we started to serve eels using natural eels from Chikuma River. Since then, we've been in the restaurant business for over 110 years, and have been in business for generations.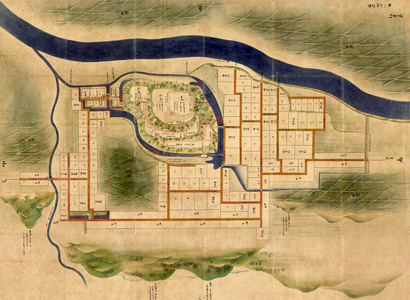 信濃国飯山城絵図
Turning point
The eels of the Chikuma River, which can be said to be a blessing for the heavens, have been difficult to secure year after year due to flood control and dam development.Eventually, we will purchase live eel from a long distance from Shizuoka prefecture.
Under such circumstances, Masao Honda, the third generation, completed a completely new sauce after a long trial and error.We arrived at the secret sauce that continues to this day, "soy sauce-flavored and not sweet", which is a "lightly cooked" kabayaki that mainly emphasizes the original taste of eel.
We decided to live with eel and renamed the restaurant as "Eel Specialty Restaurant Honda".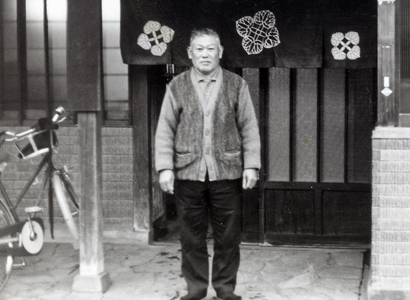 三代目 本多政男
Honda's commitment
The third generation was a very unusual person.We were limited to two cups of alcohol and one bottle of beer. Any more than that and the customer would be kicked out.There was no sansho (Japanese pepper) available, which was the norm in an eel restaurant.We want you to fully enjoy the hard-earned live eel with our signature sauce… That's why we are so particular about it.
Along with our secret sauce, we have passed down our commitment to our customers, and even today, we don't keep Sansho on the table.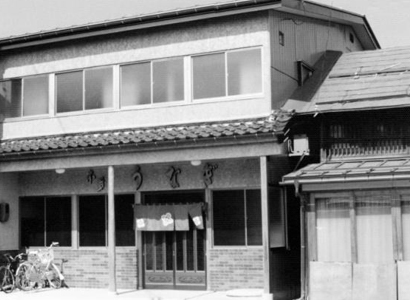 明治・大正・昭和を駆けた初代店舗
Tradition and Innovation
The current owner, Masaharu Honda, is the fifth generation.
Unlike in the past, live eel is now delivered by home delivery.The place of farming has also moved from Shizuoka to Kyushu.We started direct business with eel farms in Miyazaki, Japan, and started shipping live eels by air.The live eel arrives every morning and is swimming vigorously in the aquarium.
The sauce is also changing.As time goes by, people's taste buds also change.We change the ratio of seasoning, and sometimes we change the brand name of soy sauce and mirin as well.
Making new shop and "Making new flavors" while maintaining the tradition of Honda's "Bringing out the flavor of eel". The challenge of creating a unique taste will continue.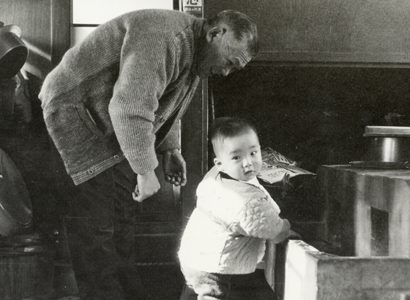 三代目と幼少期の五代目
Oku-Shinshu is also known as "Japan's hometown", where the popular songs "Furusato" and "Oborotsukiyo" are set.
As the song says, Oku-Shinshu is surrounded by mountains in National parks such as the Madarao Kogen and Shiga Kogen, and the longst river in Japan, the Chikuma (Shinano), flows slowly.
The deep snow in the world's heavy snowfall areas eventually turns into pure water.In spring, rape blossoms bloom all at once, and the heat of summer grows various plants, eventually leading to fertility in autumn.
Iiyama has many historic temples and shrines, and is also known as the "Little Kyoto of Shinshu", and is blessed with hot spring resorts such as Togari, Nozawa, and Madarao Kogen.Here are just a few of those Iiyama's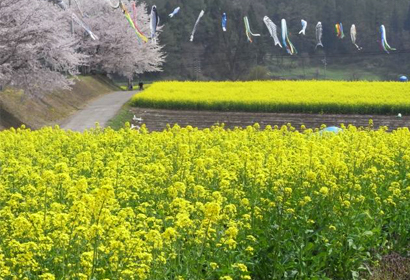 Nanohana Park in spring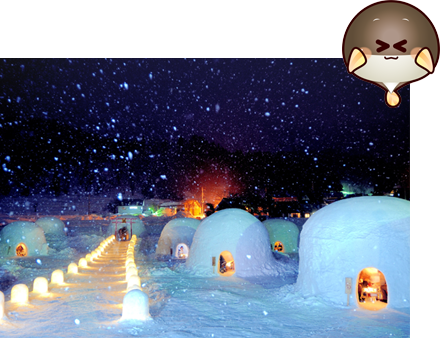 Kamakura-no-Sato (Snow hut)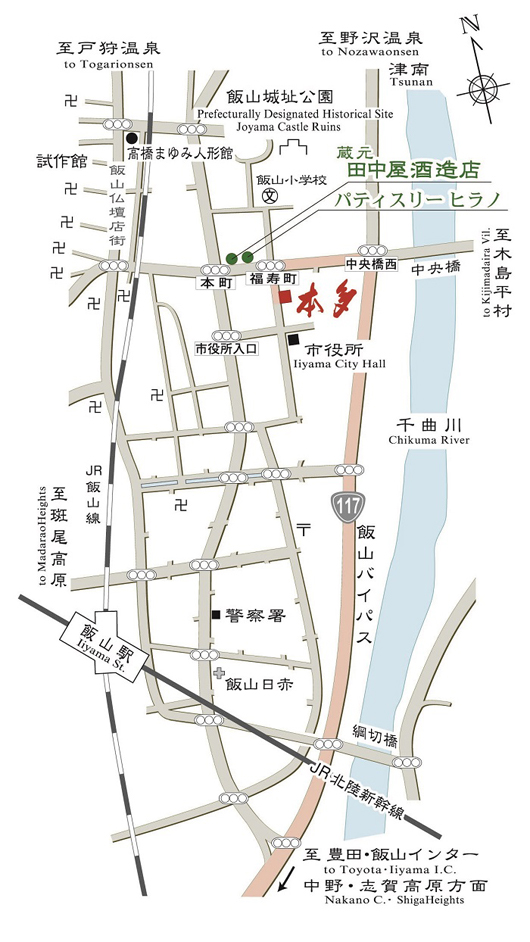 Patisserie Hirano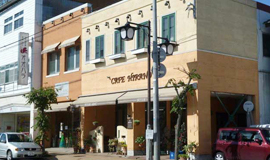 The authentic cakes that customers are visiting from outside
the prefecture and the café are popular
Tanaka-ya Sake Brewery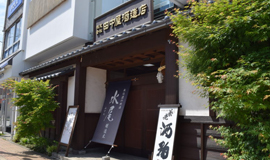 The pure water, delicious rice,
and a severe winter with more than 2 meters of snowfall create a fine sake.
Mayumi Takahashi Museum of Doll Art

The unparalleled dolls created by Mayumi Takahashi, a doll artist from Iiyama, is simple yet has a feeling of humanity and home.
Visitors come from all over the country and abroad.